What can The Workplace Doctor™ help you with?
Conflicts
Challenging personalities
Marginal performance
Incohesive teams
Stress or burn-out
Insensitive or inappropriate conduct
Harassment or workplace violence
Personnel or supervision issues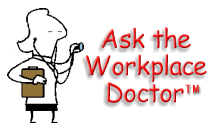 Previous Q&A's from The Workplace Doctor™




A full-service customized consulting / training-development provider, MTS focuses on workplace and personnel issues including diversity, harassment, conflict, communication, service, and teaming. (See list of Topics).
Over the past 20+ years, MTS has developed and presented award winning programs for over 350 businesses, organizations, government agencies and universities in four countries.




Seventeen years of research, working with hundreds of organizations, and training thousands in public and private sectors, has spawned these best of the best, "nuggets" of downloadable information on workplace topics. Learn in 100 pages or less what others would have you wading through mountains of pages to glean. Simply put…information when you most need it…NOW!



P.O. Box 470695
Fort Worth, TX 76147
817 737-2893

Fax 817 737-7517
e-mail: sittcom-subscribe@yahoogroups.com